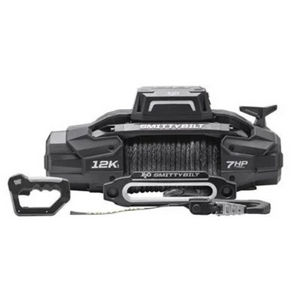 The perfect winch to bolt to your VICE Integrated Winch Mount or tuck behind our MOD v2 Series Bumpers. We've tailored our winch mounts and control box relocation kits to work perfectly with the Smittybilt X20 Winches because we feel they are a great value option.
We're very happy with the GEN3 Smittybilt winches
The control box easily detaches and can be relocated using our Control Box Relocation Kit.

The clutch handle has a built in detent which locks into place. This give you confidence knowing that it wont pop out of gear.

The small packaging also has an IP68 rating. This means the motor and gears are protected against constant submersion in water!

It comes with a wireless controller that makes using your winch easier than ever.

It comes pre-spooled with synthetic rope ready to bolt on. Most winches you have to spool and tension the line yourself. This cuts down on assembly time by about an hour.

Its simple to clock and easily attached to our Clutch Relocation Kit.

Comes with a sturdy machined black hawse fair-lead which looks great on the front of your truck!
The 10,000 lbs  version is a great size for Jeeps, and half-ton pickups. The 12,000 lbs version is suited for half-tons loaded with gear, and heavier 3/4 and 1 ton pickups. 
This product requires a mounting kit. Check out our line of Hidden Winch Mounts Here