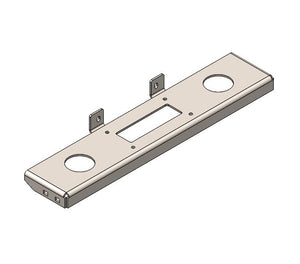 This winch mounting plate bolts into the back side of our MOD V2 Series Bumper for 5th Gen RAM 1500 trucks. This gives our MOD v2 bumper a winch capability.
This includes:
2019 - 2023 RAM Rebel MOD v2 bumper [100115]
2019- 2023 RAM 1500 MOD v2 bumper [100121]
2021 - 2023 RAM TRX MOD v2 bumper [100122]
This winch mount fits medium body winches that have the standard 4.5" x 10" mounting dimensions. 
This includes our most popular winches: 
-WARN VR EVO 10-s (103253) , WARN VR EVO 12-s (103255)
-Smittybilt X20 Gen2 and Gen3 Winches 10s and 12s
Do not forget to add our Control Box Relocation Kits as they are required when fitting a winch into this bumper. 
The WARN heavy weight series such as the M12 large body winch will not fit (nor would you want it to, these winches are far too heavy for your suspension)