Please allow 2 weeks for us to prepare and ship your order.
The absolute best in Fit, Form, and Function for your 2015-2018 RAM Rebel.
This Bolt on system we developed will install a 10,000-12,000 lb. capacity winch behind your stock RAM Rebel bumper, giving it way more off-road capability, and a proper aggressive look!
- Overbuilt from 1/4" and 3/16 P&O Plate steel
- Comes finished in a very durable satin black powder coat
- Includes all the hardware you need to install
WHAT WINCH SHOULD I CHOOSE?
We've hand picked two winches that work fantastic with our mount, and developed a suite of aftermarket upgrades for them that make using our kit safe, fun and easy. 
WARN VR EVO and SMITTYBILT X20 GEN3
Why these two?
-They're strong and wont weight down your suspension. 
- Completely Waterproof (IP68)
-Equipped with Synthetic Line (safer, lighter, and easier to handle)
-Tons of pulling power in a compact package.
-Clockable clutch handle
- Relocatable Control Box
Our winch mounts are compatible with other medium body winches that use the same bolt pattern (10" x 4.5"). If you'd like to use another brand winch and are unsure if it will fit, please send us a message.
OPTIONAL LIGHTING KIT
Its one thing to be stuck, but its worse if you can't see! That's why we offer an optional Lighting Kit that will illuminate your way or work area. This kit includes brackets that bolt on to our hidden winch mount, and include a sealed wiring harness.
- Optional Bolt on LED Light System nests two 6" IP68 Lightbars, each packing 3400 lumens, in the bumper beside the fairlead for the ultimate adventure setup. Includes all painless wiring kit to simplify installation.
CONTROL BOX RELOCATION KIT
This kit relocates your Winch Control Box to your engine bay. This has multiple advantages. Firstly - this makes plugging in your winch controller very easy and safe. Simply pop your hood and plug it in. Secondly - the control box is the least waterproof and most likely part to cause your winch to fail. Moving it to the top of the engine bay keeps the contactors and electrical connections away from submersion in water, mud, and road grime. The kit contains a bolt on mount specific to your Warn or Smittybilt Winch, as well as proper cables that are color coded the same as factory for painless installation.
Don't Forget to add our new Control Box Relocation Kit to extend the life of your winch and make using it even easier! 
INTERNATIONAL CUSTOMER INFORMATION
Our business is located on the west coast of Canada and we only charge taxes to Canadian customers. We do not cover import charges for international customers and additional charges will apply (duty tax, etc.) during import to your country.
INSTALLATION
Checkout the video below!
Great design, great product
The install on this plate was super straight forward. Plus it looks phenomenal, like it should be a factory install. I have very happy with this purchase!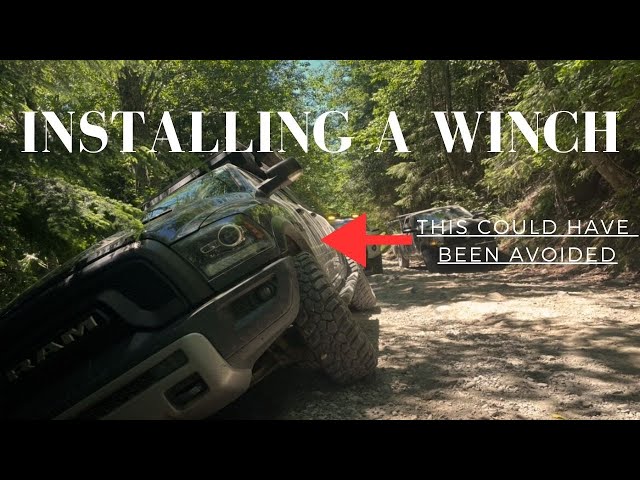 Easy to install, looks clean, and functions great!
I followed along with the video while doing thing install. It was super easy. It is stout. I also got the duel speed demon lights. The lights didn't give me as much down range as Id like but they actually turned out to be great in the snow and fog. I like how this product uses "dead space" and turns it into something usable. Just cause I may use this accouple times a year. I did go with the 12K Rough County Winch, and made my own relocation box. The winch mounted perfectly, and required very little adjusting.
Great Winch and light kit
Fairly easy to install when following the provided video instructions. I used a different light bar with the VICE mounts, so I had to trim the bumper a little more to accommodate the different lights. I like the kit, and like the clean look of the installation behind the bumper. Great kit overall.
Good but extra work needed to be done
I ordered mount months ago and have just recently have had time to get a winch and install. Never looked at it when I got it due to always traveling for work. Needed to drill a whole,was missing mounting point on driver side of mount. Passenger side was fine. Overall happy with how it turned out. Lights are pretty nice. Went with a harbor freight apex 12,000lbs winch.
Hidden Winch Mount
Even though I ordered the winch 2 weeks before christmas, it arrived in plenty of time. My husband was very pleased with the product. He did say that it was a challenge to install though. The bolt placings were difficult to reach. All in all though he loves it.